Back To School With Permata Bank Dari Blibli.com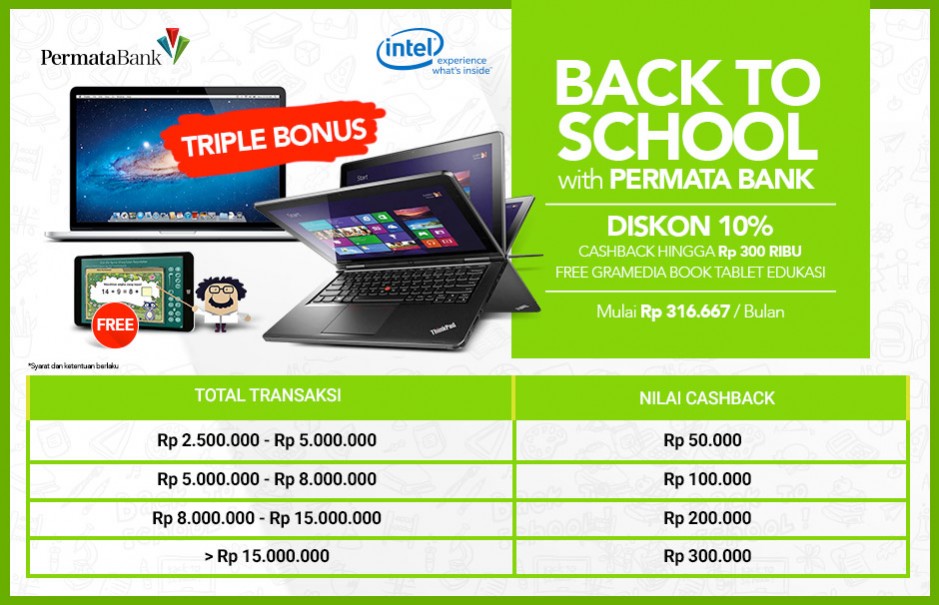 Hai semua! Buat kalian yang punya adek atau anak atau keponakan yang kepingin puya laptop untuk sekolah, mending beli di Blibli dech. Karena Blibli dan Bank Permata mengadakan promo cashback! 
Ada banyak banget jenis-jenis laptopnya. Bisa kalian liat di bawah sini: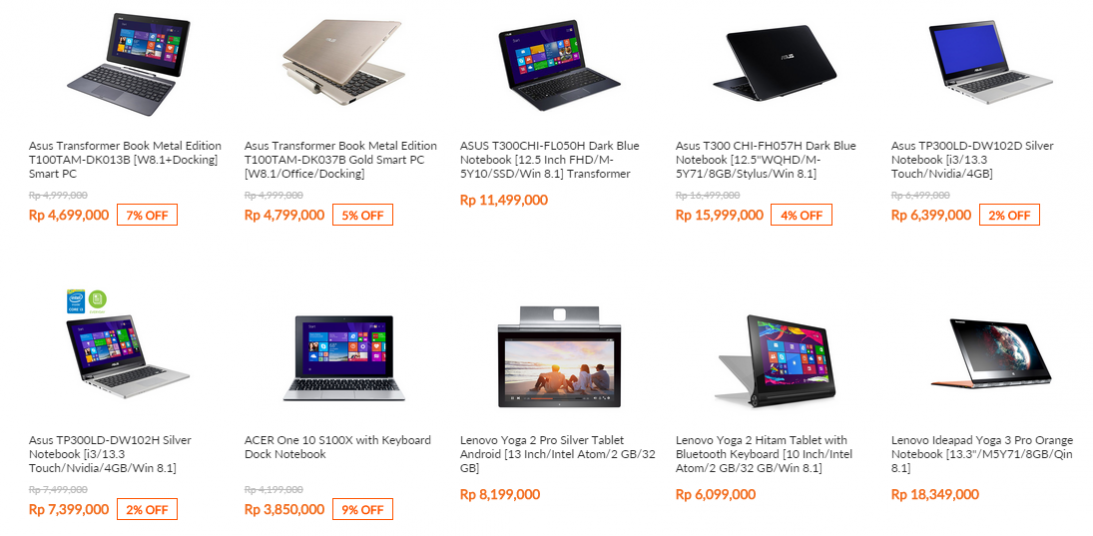 Syarat ketentuan umum :
Periode promo berlaku selama periode 10-23 AGustus 2015.
Persediaan barang terbatas, tergantung stok barang yang tersedia.
Promo hanya berlaku untuk member blibli.com.
Gunakan kode voucher BTS-PERMATA10 pada saat melakukan pembayaran untuk mendapatkan potongan 10%
Kode voucher hanya berlaku untuk pembayaran menggunakan cicilan 0% Permata Bank hingga 12 bulan
Bonus produk akan dikirimkan bersamaan dengan produk utama.
Persetujuan permohonan cicilan adalah hak bank sepenuhnya
Free Shipping/bebas biaya kirim berlaku khusus member yang menggunakan NCS dan JNE ke seluruh Indonesia.
Dengan membeli produk dalam promo ini, pelanggan dianggap mengerti dan menyetujui semua syarat dan ketentuan yang berlaku.
Blibli.com berhak membatalkan pesanan apabila customer tidak memenuhi syarat dan ketentuan yang berlaku.
Syarat Ketentuan Cashback Permata Bank :
 Customer wajib menggunakan Simple Pay 0% hingga 12 bulan
Customer akan mendapatkan tambahan cashback dengan skema sbb:
Skema Cashback :

Transaksi Rp 2,500,000 - ≤ Rp 5,000,000 = cashback Rp 50,000
Transaksi Rp 5,000,000 - ≤ Rp 8,000,000 = cashback Rp 100,000
Transaksi Rp 8,000,000 - ≤ Rp 15,000,000 = cashback Rp 200,000
Transaksi ≥ Rp 15,000,000 = cashback Rp 300,000

Cashback akan di kredit-kan langsung ke tagihan customer oleh Permata Bank, maksimal 3 bulan dari tanggal transaksi.
Ayo beli laptopnya di sini